dspblok 21489 + USB Audio Class II - Analog Devices ADSP-21489UAC2 SHARC DSP Module
The dspblok™ 21489uac2 combines a powerful floating-point DSP with a dedicated USB Audio Class 2 coprocessor.
An Analog Devices ADSP-21489 SHARC DSP operating at 400 MHz and an XMOS XU208 providing the USB audio support is the heart of the module.
The module includes flash, EEProm, and switching power supplies to support the core voltage requirements. All the connections are brought out to standard 2mm dual row header footprints. The board is only 60mm x 60mm (2.36" x 2.36").
USB Audio Class 2 is supported by Danville supplied Microsoft Windows drivers along with native support in Apple and Linux operating systems. In addition to the USB Audio Class 2 support, Danville has enhanced the USB firmware to include HID endpoints for control. This allows DSP code to be uploaded without a programmer or ICE as well as support for graphical design programs like DSP Concepts Audio Weaver.
The dspblok 21489uac2 is a powerful version of our fourth generation SHARC based Audio dspbloks. Since the dspblok 21489uac2 does not include external SDRAM, it is the best choice for applications where large FIRs, long delay lines or large FFTs are not needed. These applications are better served with our pin-compatible, dspblok 21469uac2.
Development couldn't be easier. The dspblok 21489uac2 is supported by Analog Devices' Visual DSP++ or CrossCore Embedded Studio. You can connect to an Analog Devices ICE-1000 or ICE-2000 via JTAG. Our dspblok dev board is a convenient way to get started with breakouts interfacing to your own external circuits.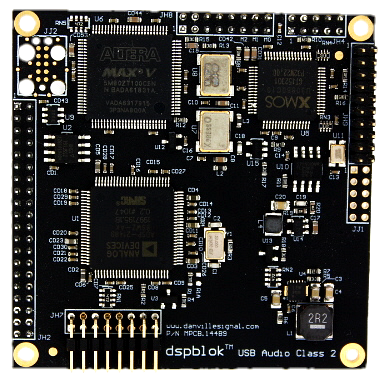 Specifications:
Key Components:
Analog Devices ADSP-21489
XMOS XU208 MPU (USB UAC2 Transceiver)
Adesto AT25SF161 16Mb Serial Flash
Microchip 25AA02E48 Serial EEProm with MAC Address
Exposed I/O (3.3V):
DAI 20 - DAI 5
DPI 4, DPI 8, DPI 9, DPI 10
DPI 3-DPI 1

(

Assigned as SCK, MISO, & MOSI

)

FLG1, FLG0, RESET#

(

Open Drain

), OUT 2 - OUT 0

MCLK OUT
Size:
60mm x 60mm
Height: 4mm above PCB, 2mm + 4.3mm

(

mating header

)

below PCB
PCB Thickness: 1.6mm
Connectors:
Power Requirements:
3.3V-400mA, Largely dependent on core clock and computational load.
(See User Manual for more details.)
Additional Resources

Description:
dspblok Development Board
Features:
Power Supply, Connectors and Expansion