An Interview with Richard Hollis
This week, we sat down with Richard Hollis of Hollis Audio Labs to talk about his journey to owning an audio company, the benefits of DSP, and some things he is looking forward to in 2021. Read more about Rich's story, and check out his AudioCircle page to see some of his creations!
Tell us a little about yourself and your journey to being an audio professional
I loved listening to music and started as a kid. The song Classical Gas is one of my earliest memories of a guitar song. I have played guitar for 40+ years. When I heard it recorded and replayed, I was surprised by the difference. In college, I finally heard a real stereo system at a friend's father's place playing Pink Floyd's Dark Side Of The Moon. It changed my perception of what well-reproduced sound could really sound like. Then I went on to an audio show in the Alexandria, VA area that had the Infinity Reference Standard Reference III full system and it truly set a standard for reproduction I have not really heard since. The quest has been to build a system at that level that did not break the bank.
What is your favorite part of working in audio and with loudspeakers?
As an electrical engineer, I enjoy the challenge of developing the digital crossover design and then implementing it after making the acoustic measurements of the speaker and baffle to complete the system.
What projects/events are you looking forward to in 2021?
Hollis Audio Labs will be showing the latest speaker designs at Rocky Mountain Audio Fest in Denver, Colorado in October 2021 in the Al Stiefel Remembrance Room. Hopefully, by that time the show will go on as planned.
What is one innovation in digital audio that you hope to see in the near future?
The Danville Signal dspNexus 2x8 system, that I had inputs on the design, to implement state-of-the-art ADC's, DAC's, and DSP processing to be the entire digital front-end of a music playback system with the latest HAL speaker designs. Hollis Audio Labs has two speaker systems in various stages of design to be ready for RMAF 2021.
Tell us about the new Magnetar speakers!
The Magnetar speaker is an open baffle planar speaker system that covers the 250Hz to 20KHz range of music reproduction. It is a very capable planar magnetic driver that is served well by DSP crossover and EQ. From 250Hz down will be the Rythmik Audio/GR-Research 2x12 open baffle servo subsystem. The dspNexus 2x8 will be the DSP crossover and music replay system to drive the Class D amps for the full speaker system.
There will be two demo rooms in the RMAF 2021 suite. The Magnetar system will be in the smaller demo room.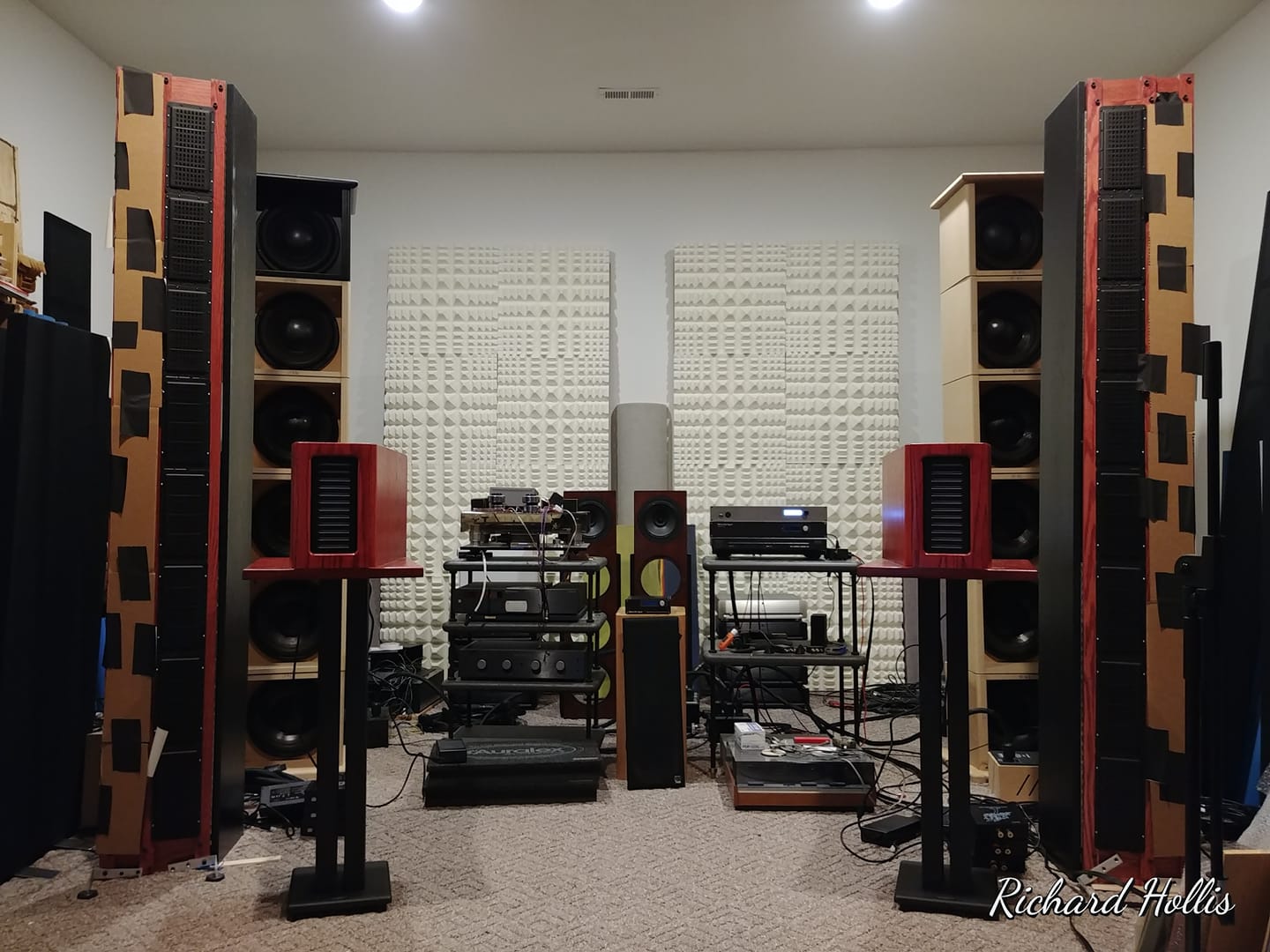 How has DSP helped your design/production process?
There are many areas that a DSP-based crossover system improves over a passive crossover.
First is channel-to-channel matching as passive component tolerances, even with component matching, are far from what DSP can accomplish. This improves stereo imaging.
Passive crossovers have to use resistors for padding driver levels, which drop the overall sensitivity of the driver for level matching and how the driver back electromotive force reacts with the crossover network. By using a driver directly connected to the amp output, it controls the driver's back electromotive force.
Using time delay to align drivers output to make a cohesive wavefront is a big improvement to any speaker system I have heard. When you are using a subwoofer in a room, their location may not be best collocated with the main speaker. However, you still want the full wavefront to arrive at the same time. With a simple distance offset measurement, in that case, the time delay can be set in a DSP crossover simply and be an improvement.
Using new techniques in room correction, along with room acoustic products, can make a large improvement in system sound. Both together are a major improvement to me.
Anything else?
Hollis Audio Labs exists to bring digital audio and DSP music replay to audiophiles to show how well-reproduced music can be accomplished. The HAL MS-6 is the latest PC Music Server System in the family of these products to do that for people playing HiRez music files. We have been working with the Danville Signal dspMusik 2x8 for years and now the dspNexus 2x8 completes the DSP capabilities to be the entire front end for both digital and analog sources to drive the speaker system.