dspInstrument spDAQ - 2 Channel Sound & Vibration Instrument
The dspInstrument spDAQ™ is a 2 channel USB bus-powered data acquisition front end optimized for sound and vibration measurements. It has industry-leading signal/noise performance and distortion performance since it relies on state-of-the-art audio data converters. However, unlike audio soundcards, each input and output level is stable and calibrated for accurate measurements. The sampling rate can be as high as 192k.
Each audio input can supply IEPE/CCP biasing for direct support of measurement microphones, accelerometers, and hydrophones. There is also a TEDS interface that can read and write to these sensors. Alternatively, you can configure each input for standard voltage measurements. Since transducer sensitivity varies, the input gain can be selected as x1, x2, x4, x8, x16, x32, x64 and x128. Each of these settings is individually calibrated.
The audio output has 1 channel available on the front panel for convenience but is also available as two channels on the back panel.
There are three channels of opto-isolated inputs and three channels opto-isolated outputs available for QC applications. For example, the outputs might be used as an Exceed Upper Limit, Pass, Below Lower Limit indicator.
The dspInstrument spDAQ is intended to be used with a host computer using USB3 as a power source. From the host computer point of view, the dspInstrument spDAQ looks like a USB Audio Class 2 sound card. An external Windows application and DLL manages the special control settings for level, input mode, calibration, and other settings. This Windows DLL allows you to integrate control settings seamlessly into your custom application. The UAC2 driver supports both Windows Multimedia Extensions (MME) and ASIO (Steinberg Audio Stream Input/Output).
MSRP is $750.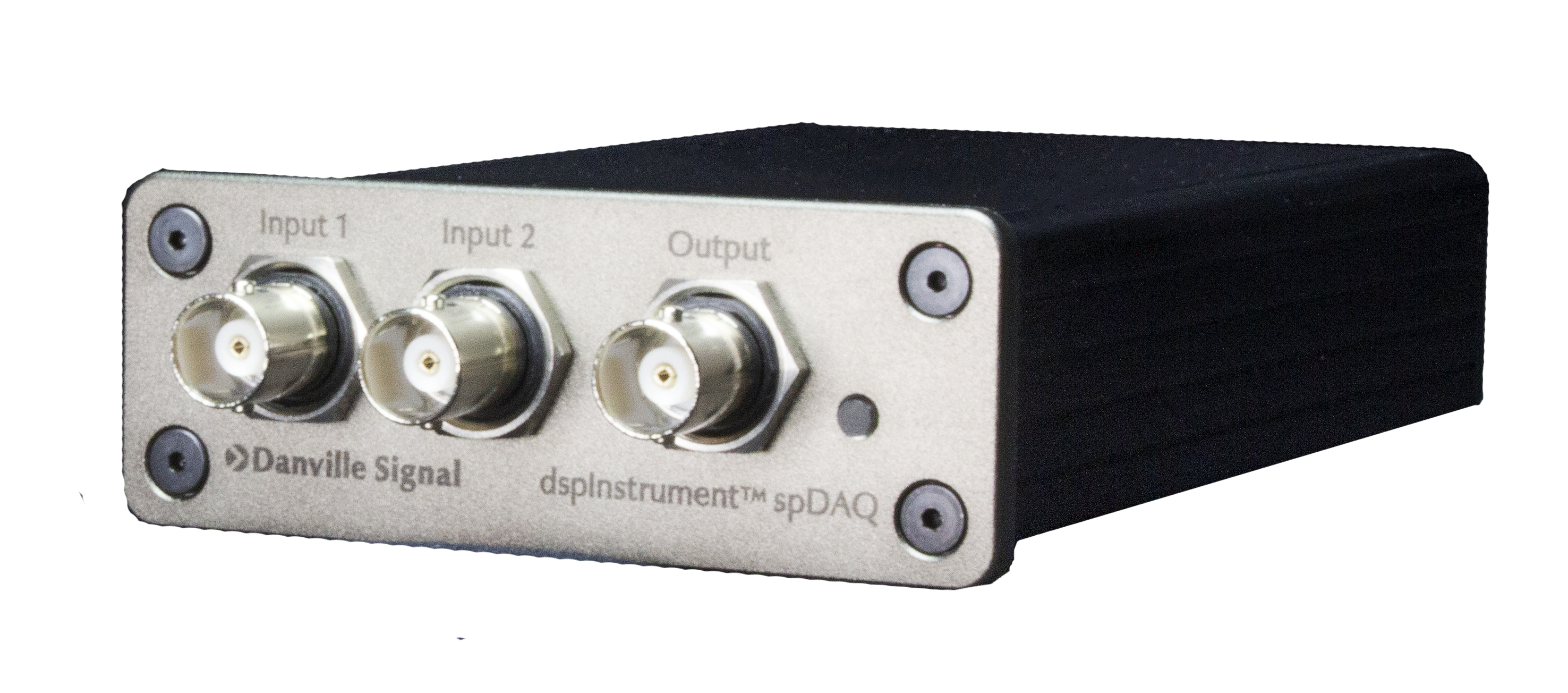 Specifications:
Sampling Rate:
Audio Inputs:
Programmable Gain Amplifiers x1, x2, x4, x8, x16, x32, x64, x128
Full Scale Voltage (x1 Gain) +/-10 Vpk
Input Impedance 1 MΩ
Connectors: BNC
IEPE/CCP Power (4mA)
Frequency Response < +/-0.1 dB (10 Hz – 90 kHz)
Low Frequency cutoff < 2 Hz (-3dB)
Audio Outputs:
Full Scale Voltage +/- 10 Vpk
Connectors: BNC (Mono), 3.5mm Phone (Stereo)
Digital I/O:
RJ45 - Wired similar to Ethernet TIA568B
Opto-Isolated Inputs

In 0 C Pin 1 (Orange/White)
In 0 E Pin 2 (Orange)
In 1 C Pin 3 (Green/White)
In 2 E Pin 4 (Blue)
In 2 C Pin 5 (Blue/White)
In 1 E Pin 6 (Green)
5V Pin 7 (Brown/White)
Ground Pin 8 (Brown)

Opto-Isolated Outputs

Out 0 C Pin 1 (Orange/White)
Out 0 E Pin 2 (Orange)
Out 1 C Pin 3 (Green/White)
Out 2 E Pin 4 (Blue)
Out 2 C; Pin 5 (Blue/White)
Out 1 E Pin 6 (Green)
5V Pin 7 (Brown/White)
Ground Pin 8 (Brown)
Computer Interface:
USB3 B Receptacle
USB3 B to A Cable (required for sufficient current handling)
USB Windows Driver , DLL and Control Application (supplied)
Power Consumption:
Features:
2 Audio Inputs / 2 Audio Outputs