dspblok 21469+USB - Analog Devices ADSP-21469 USB SHARC DSP Module
*As of 02/07/2022, the dspblok 21469+USB is currently on a strict allocation basis for our current customers. Please contact us to discuss a suitable replacement for this DSP Module*
The dspblok™ 21469+USB is a highly integrated DSP module that incorporates an Analog Devices' ADSP-21469 SHARC DSP operating at 450 MHz, flash, EEProm, 1Gb DDR2 memory, and a switching power supply to support the core voltage requirements.
A high-speed USB 2.0 interface based on an FTDI FT2232H provides a convenient way to upload your application code via Danville's dspBootloader™. The USB port is also available for your application with driver support for many operating systems including COM port emulation. All the connections are brought out to standard 2mm dual row header footprints. The board is only 60mm x 60mm (2.36" x 2.36").
Development couldn't be easier. You can connect to an Analog Devices ICE using a Danville JTAG Adapter. Analog Devices has two development packages available: CrossCore Embedded Studio or Visual DSP++.
If you are starting a new project or designing your own target, you may want to use the dspblok Development Board. This board is convenient as a starting place to connect other development boards (data converters and I/O). It includes a power supply and computer connections to get you started.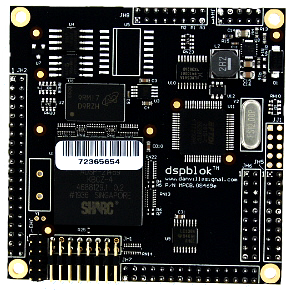 Specifications:
Key Components:
Analog Devices ADSP-21469
Micron MT47H64M16 1Gb DDR2 SDRAM
Adesto AT25SF161 16Mb Serial Flash
Microchip 25LC640 Serial EEProm
FTDI FT2232H High Speed USB Transceiver
Exposed I/O (3.3 V):
DAI 20 – DAI 1
DPI 14 – DPI 7, DPI 4, DPI 3 – DPI 1 (assigned as SCK, MISO & MOSI)
FLG1, FLG0, RESET# (Open Drain)
DSP CLKOUT
LINK PORTS
DATA BUS: D7-D0, A23-A0, RD#, WR#, ACK, MS3#-MS1#
JTAG
Size:
60mm x 60mm
Height: 4mm above PCB, 2mm + 4.3mm (mating header) below PCB
PCB Thickness 1.6mm
Connectors:
Dual row 2mm headers
Power Requirements:
3.3V – 400mA Largely dependent on core clock and computation load.
(See User Manual for more details.)
Additional Resources

Description:
dspBlok Development Board
Features:
Power Supply, Connectors and Expansion
Crystal for Standard Bauds
Standard Digital Audio Clock
Standard Operating Core Clock