dspblok io-rtc - I/O & Real Time Clock Module
The dspblok io-rtc is a combination general-purpose I/IO expander and an accurate real-time clock board. There are eight general-purpose inputs with 3.3v and ground connections provided. There are also four onboard LEDs with the ability to connect externally.

In conjunction with a dspblok 21469 and a dspblok 96k4x data converter, it is part of a small dspblok mini stack with a footprint of 60mm x 60mm.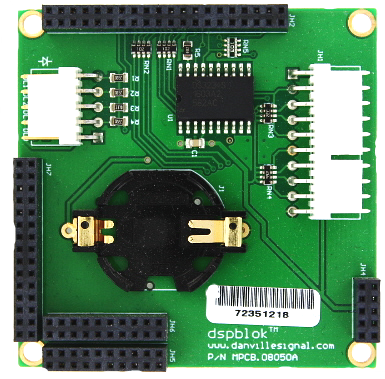 Specifications:
Key Components:
Maxim DS3234S RTC
Battery - Type 2032
Size:
60mm x 60mm
Height: 4mm above PCB, 5.3mm + 4.3mm

(

mating header

)

below PCB
PCB Thickness: 1.6mm
Connectors:
Dual Row 2mm Headers
Molex 22-05-3101
Molex 22-12-2054