dspblok ad96k Family - I/O Modules
The dspblok ad96k42 & dspblok ad96k22 are small data converter boards that sample at 96k. In conjunction with a dspblok ps-uart board and optional dspblok io-rtc, they are part of a small dspblok mini-stack with a footprint of 60mm x 60mm. Each input and output use SMA connectors to help maintain the small size and provide reliable connections.
These boards were originally designed to work with the now obsolete dspblok 21369. Current systems can use a dspblok 21469 with the pins of JH8 cut off (JH8 didn't exist in the dspblok 21369).
The dspblok 4/2 has 4 audio inputs and 2 audio outputs. The dspblok ad96k22 has 2 audio inputs and 2 audio outputs.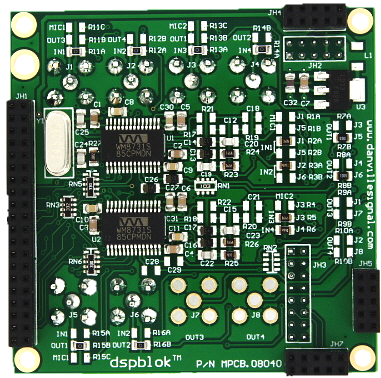 Specifications:
Key Component
Connectors:
Size:
60mm x 60mm
Height: 10mm above PCB, 2mm + 4.3mm

(

mating header

)

below PCB
PCB Thickness: 1.6mm