dspSoM 589 - Analog Devices ADSP-SC589 DSP Module
*As of 02/07/2022, the dspSoM 589 is currently on a strict allocation basis for our current customers. Please contact us to discuss a suitable replacement for this DSP Module*
The dspSoM™ 589 is a highly integrated DSP module that incorporates an Analog Devices' ADSP-SC589 Dual-Core SHARC+ DSP & ARM Cortex A5 operating at 500 MHz. The dspSoM makes using the ADSP-SC589 easy by removing the hardware complexities of the supporting circuits that are needed in a complete design. The board includes a pair of 2Gb DDR3 SDRAM, QSPI Flash, Ethernet Phy, EEprom with MAC Address, IEEE-1588 support, and integrated power supplies.
The connectors are 0.8mm pitch with excellent signal integrity so that large mating PCBs can still be fabricated with relaxed designed rules. This makes the mating PCB much less expensive.
The dspSoM footprint brings out most ADSP-SC589 connections. There are also extra pins that are reserved for special custom versions of the dspSoM. For example, this could be the addition of an FPGA or a custom interface subsystem for specialized USB or Ethernet communications.
The dspSoM 589 is supported by the Danville dspSoM Development board. You will also need Analog Devices CrossCore Embedded Studio and an Analog Devices ICE-1000 or ICE-2000 emulator.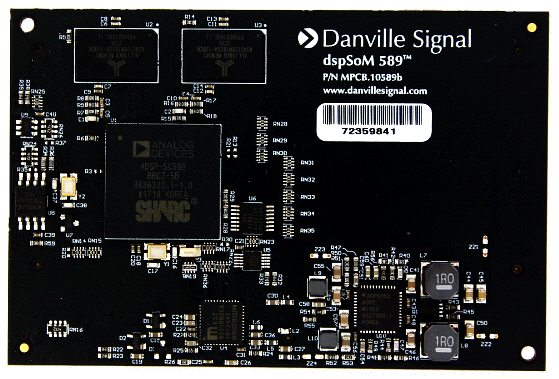 Specifications:
SHARC+® ADSP-SC589 DSP:
Two SHARC+ floating point DSP cores

(

6 GFLOPS, 2 GMACs
ARM Cortex A5
Advanced FFT/iFFT accelerator
Interfaces:
16 half duplex SPORTs, I2S, TDM, SPDIF/AES3 & 16 ASRCs
Ethernet: 1Gb with onboard PHY & IEEE-1588 support USB 2.0

(

2 ports

)

, host and device configurations
PCIe: 1 Lane 5Gb/s
SPI

(

3 ports

)

TWI

(

3 ports

)

UART
CAN
Link Ports
JTAG
Memory:
4Gb DDR3 SDRAM
128Mb SPI Flash
2kb SPI EEPROM with individual MAC address

(

EUI-48

)
Power:
Input Voltage 5.0 VDC
Input Current < 1A
I/O Voltage is 3.3V
Features:
Power Supply, Connectors and Expansion